Charles River Bank Holds Annual Dinner Meeting with Milestone Service Anniversaries Recognized
Photo Caption:  At Charles River Bank's Annual Dinner Meeting, Bookkeeper Kathy Antonellis is recognized by President & CEO Derek Plourde for her 25 years of service.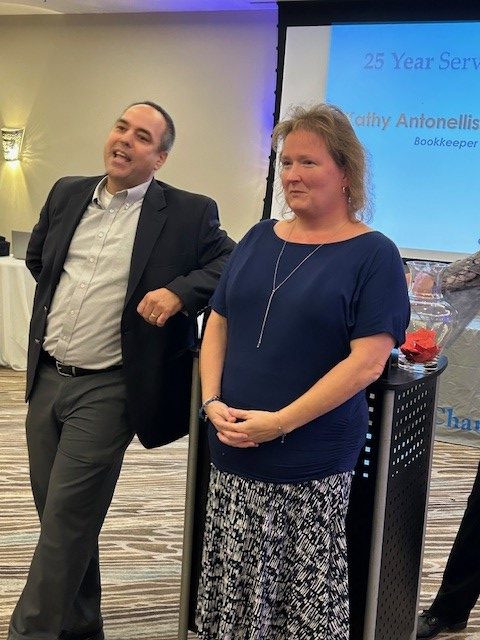 Charles River Bank's Annual Dinner Meeting was held on October 17th at Galliford's Restaurant in Mendon, MA. Chairman of the Board Steven Richardson opened the meeting by welcoming team members, directors and invited guests. President and CEO Derek Plourde then expressed his thanks for their continued dedication to providing stellar service to our customers, fellow team members and our community.  Then, the following team members were recognized for reaching milestone anniversaries with Charles River Bank (CRB) in 2023: 25 Years – Bookkeeper Kathy Antonellis; 20 Years – SVP/Chief Customer Care & Marketing Officer Ann Sherry; 15 Years – SVP/CFO Robert Leist; 10 Years – SVP/Senior Retail Lending Officer Cheryl Beauvais; 5 Years – Medway Branch Supervisor Rachel Diaz, President & CEO Derek Plourde, and Facilities Coordinator Doug Downing.
Following the award presentations and dinner, the Social Ones, CRB's employee activity committee, led a video trivia game using little known facts about employees that required team work to win.
President & CEO Plourde stated, "Our Annual Dinner Meeting provides a wonderful opportunity to acknowledge every team member, but especially those who have reached milestones in their length of service with Charles River Bank.  It's always wonderful to see our people who work in different offices and departments get to know each other in an atmosphere of fun and camaraderie."
Charles River Bank—with assets of 303 million—was founded in 1915, and continues to offer a wide range of individual and business banking services. The Bank's Main Office is located at 70 Main Street in Medway, with state-of-the-art branches located on the Bellingham/Franklin town line on Route 140, and in Mendon at 1 Hastings Street, at the intersection of Rte. 16 and North Avenue. Charles River Bank also operates a branch in Medway High School. In 2022, Charles River Bank contributed more than $36,000 to community non-profit organizations.
For more information call 508-533-8661 or visit www.charlesriverbank.com.